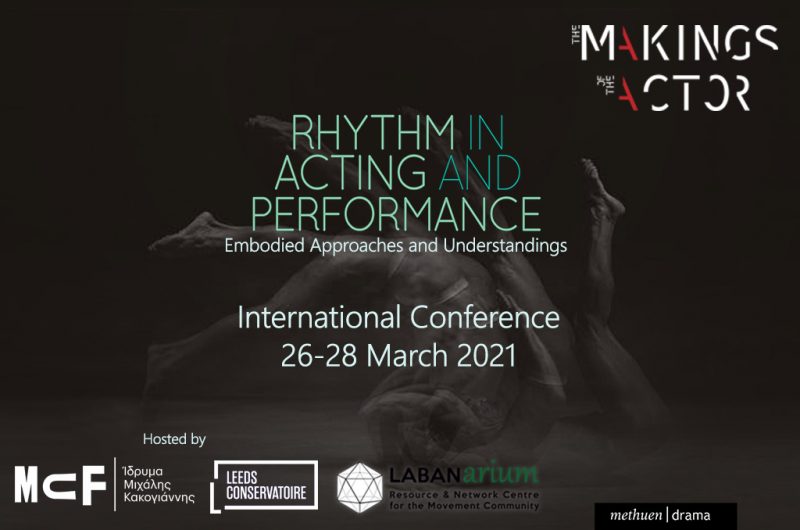 The Makings of the Actor: Rhythm in Acting and Performance Conference – Program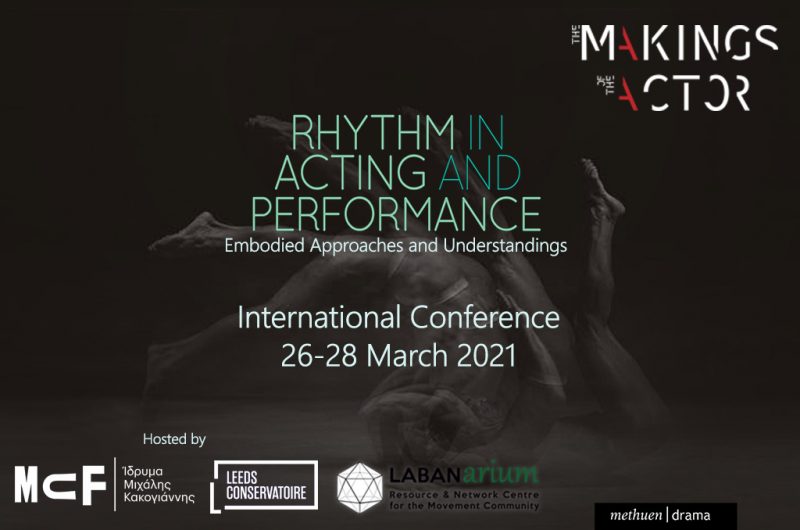 March 26-28, 2021
For info and bookings please email: info@themakingsactor.com
Rhythm in Acting and Performance is an International Conference held under the auspices of The Makings of the Actor, the Michael Cacoyiannis Foundation, the Labanarium, Leeds Conservatoire and Hellinoekdotiki, or- ganized by Dr Eilon Morris, from Leeds Conservatoire and OBRA Theatre, with the support of Post-doctoral Researcher Dr Kiki Selioni, Royal Central School of Speech and Drama, University of London. This event is part of a series of conferences organised by The Makings of the Actor based on books from international re – search practitioners discussing in theory and presenting in practice their works. The mission of The Makings of the Actor project is to gather international practitioners and researchers, from diverse fields of performance practice and scholarship, to develop and disseminate (through conferences and workshops) an evolving per- formance pedagogy that addresses the needs of present and future actors.
Schedule
* Please note, all the timings are based on local time in Athens, Greece. For example, the conference begins at 13.00 in Athens, 12.00 in Paris, 11.00 in London etc….
** On Sunday 28 March the clocks in Europe will be moving forward an hour. Please double check your local time in relationship to this change to avoid being late for sessions on the Sunday.
Friday 26 March
13.00 (GMT+2*) – Kiki Selioni and Eilon Morris Welcome
PART 1 Defining Rhythms
13.25 – 14.05 Carla Fonseca (keynote) Ρυθμοί, Ritmicidades,….Rhyth-Me?
14.10 – 14.30 Paola Crespi (pre-recorded paper) Rhythm and Critique
14.40 – 15.10 Jonas Rutgeerts (paper) Unbecoming Rhythms
15.15- 15.45 Irene Fiordilino (paper) The affordances of absence in the construction of embodied rhythms
16.30 Part 2 Inner and Outer Rhythms
16.35 – 17.05 Andrew Davidson (paper) Dalcroze Eurhythmics and Actor Training
17.05 – 17.25 Unai Lopez de Armentia (snapshot) FOTO
17.30. – 18.00 Heidi Feldman (paper) From Afro-Peruvian to Cosmic
18.20- 19.50 Eilon Morris (keynote/workshop) Between inside and outside, tempo and rhythm
19.50 – 20.20 Reflections – All presenters and Attendees
Saturday 27 March
12.00 (GMT+2) Part 3 Structure and Spontaneity
12.10 – 12.40 Mariko Anno (paper) Expressive Freedom Within Set Patterns: The "Pulse" of Noh
12.45 – 13.05 Maxwell Sly (snapshot) A Presentations of Walking Rhythms in European Mime Theatre
13.10 – 13.40 Cass Fleming (paper) Suzanne Bing: The Interior Rhythm and Musicality of Play
13.50 – 15.05 Juliet Chambers-Coe (workshop) How do we live together? How do we train together, but apart?
16.00 Part 4 Ecology and Consciousness
16.05 – 16.35 Elvira Crois (paper) Attending to Dissatunement: a Performer's Craft in Participatory Performing Arts
16.40- 17.10 Christopher Staley (paper) Asymptotic Time
17.15 – 17.45 Vanio Papadelli (paper) Ripples, cliffs, spheres and strings
17.55 – 18.25 Sinéad O'Connor, Mia DiChiaro and Katherine Hall (paper) Plant dramas
18.30 – 19.00 Andromachi Salacha (paper) Timing and Concepts of Rhythm in Human Systems Organisation
19.05 – 19.35 Steve Donnelly (paper) Rhythm Beyond the Studio
19.35 – 20.05 Reflections – All presenters and Attendees
20.05 – 20.20 Performance
Sunday 28 March **clocks go forward one hour in Europe**
11.30 (BST+2**) Part 5 Words, Text, Meaning and Form
11.30 – 12.00 Christina Fulcher (workshop/paper) Inclusive Yoga Flow meets Inner Rhythm
12.05 – 13.00 Zoe Katsilerou (workshop/paper) Is it slowing down?
13.05 – 13.30 Nathan Thomas (paper) Rhythms of language, character change, and episodes
13.45 – 14.05 Andy Cryer (snapshot) Discovering and Exploring the Rhythms in Shakespeare's Verse
14.10 – 14.40 Kate and Oliviero Papi (presentation) Methodologies of language and physicality in relation to rhythm
14.45 – 15.05 Judith Adams and Karen Christopher (snapshot) The lost art of losing our way/A message not delivered through words
16.00 Part 6 Technology and Contemporary Rhythm
16.05 – 16.45 Paul Allain (keynote) Moving times
16.50- 17.05 Stephanie Arsoska (snapshot) Shifts in Time: Training the Digital Ensemble
17.10 – 17.40 Konstantinos Bakogiannis and Anastasia Georgaki (paper) The development of a model enabling dance and music interaction with the use of machine learning techniques
18.00 – 19.30 Olu Taiwo (workshop) Urban Butoh: Dancing to the melody and rhythm of thought
19.35-19.55 Judita Vivas (snapshot) Inner Rhythms of the Digitised Performer
20.00– 20.30 Closing Remarks and Reflections – – All presenters and Attendees